Podcast: Play in new window | Download (Duration: 1:09:46 — 56.1MB)
Subscribe: Google Podcasts | Stitcher | Email | RSS | More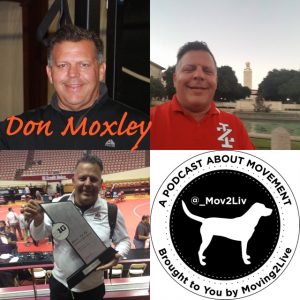 Don Moxley is the Director of Applied Science and Brand Development at Grow Healthy in North Palm Beach, FL.
Don (in his own words): over 30 years experience of improving the performance or alleviating the unnecessary suffering of humans, or teaching others how to do the same. Experienced leader, Highly skilled sports scientist with over 30 years experience in elite sport. Understanding the central nervous system and how to measure individuals' status led me to explore the different modalities used to adjust or "tune" the autonomic system. I'm currently exploring how cannabinoids can play a part in human performance and reducing human suffering.
I am an exercise physiologist who specializes in fitness/athletic assessment, player training and performance optimization. My expertise includes extensive use of wearable technology for assessment. I am experienced using Omegawave, Firstbeat, Polar, Mio, Heartmath, Zephyr, Velotron, Halo as well as many other tools.
My last 3 years have been focused on supporting the Ohio State University Wrestling Team. Prior experience includes working as an Asst. Professor and Coordinator of the Exercise Science program at Urbana University. Owner of Lemonade Neighborhood Fitness. Founder and CEO of ViA Performance Systems. I've worked as the Director of Sales for Polar Electro and coached at The Ohio State University. Additionally, I have directed training programs for Olympic Medalists, NCAA All-Americans, professionals, fitness clubs, physical education programs and sports organizations across the continent.
I wrestled for The Ohio State University where I captained the team and earned a Big 10 Championship in 1985. I like to keep myself in the classroom teaching physiology, kinesiology, exercise physiology and nutrition courses at local colleges. My daughter Jaclen is a member of the Ohio State University Lacrosse Team, her mother and I are very proud of her and the growth mindset that nurtures her growth.  
Show Notes:
Don Moxley, Exercise Physiologist / Sport Scientist, Contact information:E-mail: donmoxley@gmail.com
Website: https://trainrecoverwin.wordpress.com
Facebook: https://www.facebook.com/donmoxley
Instagram: https://www.instagram.com/donmoxley/
LinkedIn: https://www.linkedin.com/in/donmoxley/
Twitter: https://twitter.com/donmoxley
Links mentioned in the Podcast:
Don Moxley was a guest on the Moving2Live Podcast in April 2018. Check out his earlier episodes (released 4/4/18 and 4/18/18).
Link to Part 1: http://www.moving2live.com/2018/04/04/podcast-14-18-don-moxley-train-recover-win-osu-wrestling/
Dr. Ethan Russo, Neurologist and Medical Scientist, CBD and Clinical Endocannabinoid Deficiency
https://www.projectcbd.org/science/cannabis-pharmacology/dr-ethan-russo-cbd-clinical-endocannabinoid-deficiency
The National Academies of Sciences, Engineering, and Medicine Publication on the Health Effects of Cannabis and Cannabinoids
http://www.nationalacademies.org/hmd/Reports/2017/health-effects-of-cannabis-and-cannabinoids.aspx
GrowHealthy- Empowering Healthier Outcomes with Medical Cannabis
https://www.growhealthy.com
Nutraceutical Definition – A Nutraceutical is a pharmaceutical-grade and standardized nutrient. In the US, "nutraceuticals" do not exist as a regulatory category; they are regulated as dietary supplements and food additives by the FDA under the authority of the Federal Food, Drug, and Cosmetic Act.
Heart Rate Variability App from EliteHRV
https://elitehrv.com
William Kraemer, PhD, Professor, Dept. of Human Sciences, The Ohio State University
https://ehe.osu.edu/human-sciences/directory/?id=kraemer.44
How to Change Your Mind: What the New Science of Psychedelics Teaches Us About Consciousness, Dying, Addiction, Depression, and Transcendence by Michael Pollan
https://www.amazon.com/Change-Your-Mind-Consciousness-Transcendence/dp/1594204225/ref=sr_1_2?ie=UTF8&qid=1542201343&sr=8-2&keywords=change+your+mind+pollan
Blue Mind by Wallace J. Nichols
https://www.amazon.com/Blue-Mind-Surprising-Healthier-Connected/dp/0316252115/ref=sr_1_1?ie=UTF8&qid=1542201753&sr=8-1&keywords=blue+mind
Contact Info for Moving2Live:
Web: Moving2Live
Email: mov2liv@gmail.com
Twitter: @_mov2liv
Instagram: @_mov2liv
Check out our sister podcast Fitness Lab Pittsburgh– FitLabPGH
Attribution for Intro/Exit Podcast Music:
 Travel Light by Jason Shaw from the album Audionautix: Acoustic, licensed under an Attribution 3.0 United States License. Available at www.FreeMusicArchive.org