Podcast: Play in new window | Download (Duration: 1:02:21 — 50.1MB)
Subscribe: Google Podcasts | Stitcher | Email | RSS | More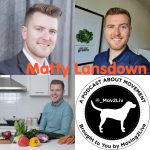 Matty is an in-demand Nutritional Therapist, International Speaker, Health & Nutrition Coach and Scientist working with high-level corporate clients, business owners and 9-5 workers. His research-based approach to nutritional optimisation and his vast experience in associated fields inform his core belief: that the absence of food is highly beneficial to your health.
Matty's medical knowledge, combined with extensive research and self-testing of non-traditional dieting and safe fasting methods have made him an internationally recognised voice in the field of intermittent fasting and nutritional optimisation. He is regularly invited to international wellness events, retreats and conferences as a coach, panelist and speaker.
Likewise, Matty's weekly podcast "How to NOT Get Sick and Die", provides his followers with a deep dive into developing sustainable healthy habits.
Show Notes: Matty Lansdown, contact info:
E-mail: info@mattylansdown.com
Website: https://mattylansdown.com
LinkedIn: https://www.linkedin.com/in/matty-lansdown/
Instagram: https://www.instagram.com/mattylansdown/
Facebook: https://www.facebook.com/mattylansdown
https://www.facebook.com/groups/intermittentfastingforhealth
Links mentioned in the Podcast:
Check out Matty Lansdown's Podcast – How to Not Get Sick and Die – available where you listen to podcasts, or visit https://mattylansdown.com
Geelong Cats, Australian Football Club
https://www.geelongcats.com.au
Dr. Ian Dunican, PhD
https://meliusconsulting.com.au
Check out the Moving2Live Podcast episodes featuring Dr. Dunican, released 1/16/19 and 1/30/19. Link to Part 1: http://www.moving2live.com/2019/01/16/podcast-319-dr-ian-dunican-phd-sleep4perdformance-melius-consulting/
Contact Info for Moving2Live:
Web: Moving2Live
Email: mov2liv@gmail.com
Twitter: @_mov2liv
Instagram: @_mov2liv
Listen to podcasts on YouTube
Check out our sister podcast Fitness Lab Pittsburgh– FitLabPGH
Attribution for Intro/Exit Podcast Music:
 Travel Light by Jason Shaw from the album Audionautix: Acoustic, licensed under an Attribution 3.0 United States License. Available at www.FreeMusicArchive.org