Podcast: Play in new window | Download (Duration: 34:43 — 21.2MB)
Subscribe: Google Podcasts | Stitcher | Email | RSS | More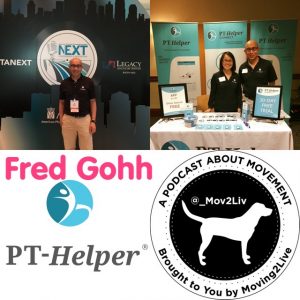 Periodically Moving2Live re-releases episodes of our sister podcast FItLabPGH.  This week we bring you a past interview with Fred Gohh of PT Helper.
Fred Gohh (in his own words): Electrical engineer, entrepreneur, cyclist. Born in the Philippines, lived in Vancouver, BC and Toronto, Ontario before moving to Pittsburgh. Part of Scalable Networks, Fore Systems, Spinnaker Networks, several other tech companies and founded PT-Helper in 2014. Created PT-Helper after crashing my bicycle. Run Team Citius, junior cycling club to get youths involved in cycling.
This podcast was originally released by our sister podcast FitLabPGH on October 18, 2018.
Show Notes: Fred Gohh, PT-Helper, – contact info:
E-mail: fgohh@pt-helper.com
Website: http://www.pt-helper.com
Twitter: https://twitter.com/PT_Helper
Facebook: https://www.facebook.com/pthelperapp
Instagram: @pthelperapp
LinkedIn: https://www.linkedin.com/company/pt-helper-llc/
Links mentioned in the Podcast:
The Coffee Buddha, Pittsburgh, PA (North Hills)
https://www.thecoffeebuddha.com
National Strength and Conditioning Association (NSCA)
https://www.nsca.com
Menachem Brodie, Human Vortex Training
https://www.humanvortextraining.com
Check out the episodes of our sister podcast FitLabPGH featuring Menachem Brodie, released 10/8/17 and 12/17/17.
Link to 10/8/17: http://www.fitlabpgh.com/2017/10/08/podcast-42-17-menachem-brodie-human-vortex-training/
Alpe d'Huez, Classic Climb of the Tour de France
https://www.cyclingweekly.com/news/latest-news/alpe-dhuez-classic-cycling-climbs-139953
Team Citius, Pittsburgh Junior Cycling
http://www.teamcitius.org
North Park, Allegheny County, PA
https://www.alleghenycounty.us/parks/north-park/index.aspx
Zwift – Online Cycling Training
https://zwift.com
Morey Kolber, PT, PhD
https://www.linkedin.com/in/morey-j-kolber-pt-phd-ocs-cscs-certmdt-b2997588/
Check out the Moving2Live episodes featuring Morey Kolber, PT, PhD, released 8/14/18 and 8/29/18.
Link to Part 1: http://www.moving2live.com/2018/08/14/podcast-30-18-morey-kolber-pt-phd-physical-therapist-academic-clinician/
Eric Malzone, Fitness Professional Online, Host of The Fitness Blitz and the Future of Fitness Podcasts
https://www.fitnessprofessionalonline.com
Check out the Moving2Live episodes featuring Eric Malzone, released 8/7/18 and 8/22/18.
Link to Part 1: http://www.moving2live.com/2018/08/07/podcast-29-18-eric-malzone-fitness-professional-online-part-1/
Contact Info for Moving2Live:
Web: Moving2Live
Email: mov2liv@gmail.com
Twitter: @_mov2liv
Instagram: @_mov2liv
Listen to podcasts on YouTube
Check out our sister podcast Fitness Lab Pittsburgh– FitLabPGH
Attribution for Intro/Exit Podcast Music:
 Travel Light by Jason Shaw from the album Audionautix: Acoustic, licensed under an Attribution 3.0 United States License. Available at www.FreeMusicArchive.org