Podcast: Play in new window | Download (Duration: 48:48 — 39.3MB)
Subscribe: Google Podcasts | Stitcher | Email | RSS | More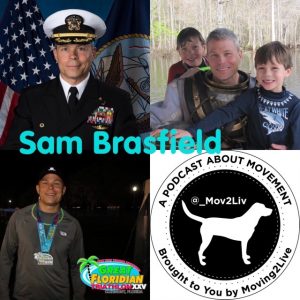 We originally released this episode on 9/18/19.  After the 10/16/19 release of our interview with Justin Matejcek, Founder of the nonprofit organization Veterans Adventure Group, we are re-releasing our interview with Sam Brasfield, in which he discusses the upcoming Veterans Adventure Group event the Skydive Ultra.
If you are interested in making a donation to Sam Brasfield's fundraiser for Veterans Adventure Group, you may do so using the following link: https://www.facebook.com/donate/504520570369361/
Sam Brasfield grew up a pretty active kid playing some sports up through middle school. After Junior High and into High School most of his activities involved running from the authorities. He Enlisted in the Navy in 1988 to see the world. His dad was a US Marine and he joined the Navy out of rebellion to his Father. He soon found a passion in movement. Mountain Biking led to running and that led to triathlon. He has been in the Navy for 31 years and continues to train and challenge himself. He now serves as an EOD Officer (Explosive Ordnance Disposal) and the Commanding Officer of Naval Diving and Salvage Training Center in Panama City Beach, FL. At NDSTC, movement is part of his and the whole command's day. Although he doesn't get out as much as he would like, he regularly gets out with the staff and students to conduct PT (Physical Training). He is currently spearheading the Tactical Human Performance Program for all Navy Divers and EOD technicians. This program includes training, development, & evaluation of Mindset, Functional Movement, Recovery, and Nutrition that will not only increase the diver's performance but also make them more resilient and enable them to have a long healthy career in the Navy.
Show Notes:
 Commander Sam Brasfield, US Navy, Contact Information:
E-mail: sam_brasfield@me.com
Website: https://www.public.navy.mil/netc/centers/ceneoddive/ndstc/commandinfo.aspx#tab1
Facebook: https://www.facebook.com/droppedbomb
Instagram: https://www.instagram.com/droppedbomb/
Twitter: https://twitter.com/droppedbomb
Links mentioned in the Podcast:
Auburn University, Auburn, AL
https://www.auburn.edu
US Navy Seaman to Admiral 21 Program
https://www.sta-21.navy.mil
"Things turn out best for the people who make the best of the way things turn out." – John Wooden
David Goggins, Author and Motivational Speaker
https://davidgoggins.com
Veterans Adventure Group
https://www.facebook.com/veteransadventuregroup/
Contact Info for Moving2Live:
Web: Moving2Live
Email: mov2liv@gmail.com
Twitter: @_mov2liv
Instagram: @_mov2liv
Listen to podcasts on YouTube
Check out our sister podcast Fitness Lab Pittsburgh– FitLabPGH
Attribution for Intro/Exit Podcast Music:
 Travel Light by Jason Shaw from the album Audionautix: Acoustic, licensed under an Attribution 3.0 United States License. Available at www.FreeMusicArchive.org