Podcast: Play in new window | Download (Duration: 1:03:10 — 50.8MB)
Subscribe: Google Podcasts | Stitcher | Email | RSS | More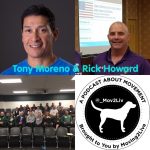 Rick Howard, MEd, CSCS,*D, FNSCA, is a doctoral candidate at Rocky Mountain University in Health Promotion and Wellness. He is an Assistant Professor in Applied Sports Science at West Chester University (PA). Howard is the Director of Fitness at Wilmington (DE) Country Club, where he trains youth in fitness and sports performance. He organizes and co-leads LTAD Summits and Playgrounds nationwide, which bring local, grassroots individuals together to learn, share, and develop action and accountability plans for cradle-to-grave implementation of LTAD. He contributes articles regularly on long-term athletic development (LTAD) and the application of concepts of pediatric exercise science for coaches, personal trainers, physical education teachers, and those who wish to improve the lives of our young people. Rick is a Master's Strongman competitor.
Moving2Live previously interviewed Rick Howard (episodes released 8/30/17 and 9/13/17); link to Part 1: http://www.moving2live.com/2017/08/30/podcast-01-17-rick-howard-part-1/
Tony Moreno, PhD CSCS*D, is Professor of Kinesiology at Eastern Michigan University and teaches courses in biomechanics and performance enhancement. For over 20 years he has served as consultant and coach educator for the Michigan High School Athletic Association and delivered sport medicine, athlete development, and performance training content for high schools throughout the State. He has authored a variety of articles and coach education materials for US Lacrosse, USA Hockey, the Society of Health and Physical Educators (SHAPE America), and the National Strength and Conditioning Association (NSCA). In addition, he has served as a strength and conditioning coach at both the intercollegiate and high school level, operations management and owner-operator of a fitness facility, and currently serves as President of East Lansing (MI) Youth Lacrosse Club.
Rick Howard, MEd, CSCS,*D, FNSCA, contact info:
E-mail: rihoward41@gmail.com
Website: https://youthsportfitnesscoach.com
Twitter: https://twitter.com/rihoward41
Instagram: https://www.instagram.com/rihoward41/
Facebook: https://www.facebook.com/Rihoward41
Tony Moreno, PhD, CSCS, contact info:
E-mail: amoreno@emich.edu
Website: https://www.emich.edu/chhs/hphp/faculty/t_moreno.php
Twitter: https://twitter.com/TMoreno40SL
Links mentioned in the Podcast:
Larry Gioia, Dynamic Paddlers
http://www.dynamicpaddlers.com
Check out the episode of our sister podcast FitLabPGH featuring Larry Gioia, released 6/11/17; link: https://www.fitlabpgh.com/2017/06/11/podcast-26-17-dynamic-paddlers-larry-gioia/
National Strength and Conditioning Association (NSCA)
https://www.nsca.com
National Strength and Conditioning Association (NSCA) Youth Training and Long-Term Athletic Development (LTAD) Position Statement and Resources
https://www.nsca.com/youth_training_and_long-term_athletic_development/
NSCA Long-Term Athletic Development Special Interest Group (SIG), SIG Chair: Joe Eisenmann, PhD
https://www.facebook.com/groups/NSCA.YouthSIG/
Jenny Ploss, PT, DPT
https://langfordpt.com
Check out the Moving2Live Podcast episodes featuring Jenny Ploss, PT, DPT, released 10/10/18 and 10/24/18; link to Part 1: http://www.moving2live.com/2018/10/10/podcast-3718-jenny-ploss-physical-therapist-langford-sports-physical-therapy-movnat-part-1/
MovNat – Natural Movement
https://www.movnat.com
XPOGO (extreme pogo sticking)
https://xpogo.com
Check out the episode of our sister podcast FitLabPGH featuring Will Weiner of XPOGO, released 9/15/19; Link: https://www.fitlabpgh.com/2019/09/15/will-weiner-xpogo/
Vurtego Pogo Sticks
https://www.vurtegopogo.com
Amanda Visek, PhD, FUN MAPS
https://www.linkedin.com/in/ajvisek/
Contact Info for Moving2Live:
Web: Moving2Live
Email: mov2liv@gmail.com
Twitter: @_mov2liv
Instagram: @_mov2liv
Listen to podcasts on YouTube
Check out our sister podcast Fitness Lab Pittsburgh– FitLabPGH
Attribution for Intro/Exit Podcast Music:
 Travel Light by Jason Shaw from the album Audionautix: Acoustic, licensed under an Attribution 3.0 United States License. Available at www.FreeMusicArchive.org