Podcast: Play in new window | Download (Duration: 35:06 — 28.1MB)
Subscribe: Google Podcasts | Stitcher | Email | RSS | More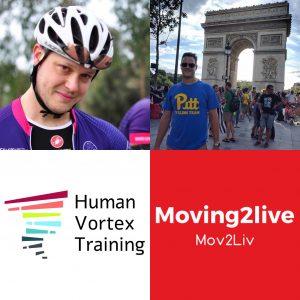 Menachem Brodie is the owner of Human Vortex Training; based in Tel Aviv, Israel, Coach Brodie works with athletes around the world, including: Pittsburgh, France, Belgium, and Israel. 
Coach Brodie (in his own words): Coaching since 2000, Menachem Brodie has been working with athletes in a number of settings, and a broad variety of sports. From Basketball and Cycling, to CrossFit and Triathlon, Brodie has helped numerous athletes to attain their goals, and beyond.
With his belief that one should Train Smarter, Not Harder, he has developed and polished his training philosophy over the last 15+ years, in order to allow his clients and athletes to not only excel in their sport of choice, but also in their professional lives.
Having earned a degree in Exercise Science from the University of Pittsburgh, Brodie has experience across the Health & Fitness spectrum including having worked as an Exercise Physiologist for a Bariatric Surgery Center for 2 years, working as the Strength & Conditioning coach in a Physical Therapy clinic for those who needed more guidance and direction to return to their sport or hobby, and working as an EMT running 911 calls. Suffice it to say, Brodie's experience and background are far more reaching than the average coaches.  In conjunction with his coaching individual and team athletes, he also works as a Business Consultant in a variety of fields including:
Fitness Technology
Sports Nutrition
Sportswear
Technology for Coaching & Athlete assessment
Ergonomic Software
For more information about Coach Brodie and his services, go to www.HumanVortexTraining.com or connect with him using the Social Media links below.
Show Notes:
Menachem Brodie, contact info:
Website: www.HumanVortexTraining.com
E-mail: Brodie@HumanVortexTraining.com
Facebook: https://www.facebook.com/HVT412/
Instagram: https://www.instagram.com/hvtraining
YouTube: https://www.youtube.com/user/HVTraining/featured
Links mentioned in the Podcast (Part 1):
First FitLabPGH Podcast episode featuring Menachem Brodie, released October 8, 2017
http://fitlabpgh.blubrry.com/2017/10/08/podcast-42-17-menachem-brodie-human-vortex-training/
Second FitLabPGH Podcast episode featuring Menachem Brodie, released December 17, 2017
http://fitlabpgh.blubrry.com/2017/12/17/podcast-51-17/
Vi by LifeBEAM, wearable tech AI running coach
https://www.getvi.com
Jewish Community Center (JCC) of Pittsburgh- Locations: Squirrel Hill, South Hills, Monroeville
https://jccpgh.org
Big Bang Bicycles, West Mifflin, PA (Pittsburgh area), Owner: Glenn Pawlak
http://www.bigbangbikes.com
USA Cycling- Recognized by the United States Olympic Committee and the Union Cycliste Internationale, USA Cycling is the official governing body for all disciplines of competitive cycling in the United States, including BMX, cyclocross, mountain bike, road and track. As a membership-based organization, USA Cycling comprises 60,000+ annual members; 2,500+ clubs and teams; and 34 local associations. The national governing body sanctions over 3,000 competitive and non-competitive events throughout the U.S. each year and is responsible for the identification, development, and support of American cyclists.
http://www.usacycling.org
Israel Cycling Academy- Israel's First Pro Cycling Team
https://www.israelcyclingacademy.com
Geno Auriemma- Head Coach, University of Connecticut Huskies, Women's Basketball Team
http://www.uconnhuskies.com/sports/w-baskbl/mtt/geno_auriemma_389985.html
Eric Cressey-Cressey Sports Performance
https://ericcressey.com
Loren Landow- Landow Performance
http://lorenlandowperformance.com
Three Rivers Rowing Association (TRRA), Pittsburgh, PA
http://threeriversrowing.org
Check out the FitLabPGH Podcast episodes (Sister Podcast to Moving2Live) featuring the Three Rivers Rowing Association.  Here's the link to the episode released March 26, 2017, featuring Executive Director, Jenn Grieb:
Link: http://fitlabpgh.blubrry.com/2017/03/26/podcast-three-rivers-rowing-association-jenn-grieb/
Link to the FitLabPGH episode released February 25, 2018, featuring Matt Grau, Head Coach of Junior Rowing at Three Rivers Rowing Association
Link: http://bit.ly/FitLabPGH-MattGrau-TRAA
Oakmont Bakery, Oakmont, PA
http://oakmontbakery.com
Robert Morris University (RMU)- Moon Township, PA
http://rmu.edu
Five Star Basketball Camps
http://www.fivestarbasketball.com/camps/
Daymond John- Founder of FUBU; Shark on ABC's Shark Tank
https://daymondjohn.com
Spanx by Sara Blakely
https://www.spanx.com/saras-world/
Contact Info for Moving2Live:
Web: Moving2Live
Email: mov2liv@gmail.com
Twitter: @_mov2liv
Instagram: @_mov2liv
Check out our sister podcast Fitness Lab Pittsburgh– FitLabPGH
Attribution for Intro/Exit Podcast Music:
 Travel Light by Jason Shaw from the album Audionautix: Acoustic, licensed under an Attribution 3.0 United States License. Available at www.FreeMusicArchive.org