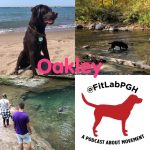 Moving2Live is a podcast about movement and exercise for professionals and aficionados.  We also have Movement is a Lifestyle Features. Each week, we publish a brief highlight of a 2- or 4-legged mover…someone who understands that movement is a lifestyle…not just an activity.  The questions are lightly edited to allow for easy readability.  Click MIAL Features for more info if you want to be featured/know someone who should be featured.
This Week: Oakley
Where do you consider "Home"? Pittsburgh
What are your three favorite movement activities? Hiking, swimming, and running
Describe the best vacation you've ever taken? Where did you go? What movement activities did you include?
Camping At Pymatuning Lake in Northwestern PA. We had a lake front spot where I could swim, kayak with humans, hike all kinds of trails
What is your favorite pre- or post-workout snack? Dog treats and water
What is your favorite thing to eat? Note: it does not need to be healthy. Human food
Do you have a movement activity on your "bucket list"? If not, what's a movement activity/event you're looking forward to in the next year? Hiking at Ohiopyle
What do you think is the biggest obstacle to getting people to move more? Just to get up and start is the hardest. Once you're moving you can go for miles!
What do you feel is the most adventurous movement activity you've ever done? Kayaking and paddle boarding with the humans!
What is your favorite recovery or self-care practice? Nap time!
What is your favorite spot within an hour of where you are currently living? (Bonus points if it is a "hidden gem") McConnells Mill State Park
Contact information for Oakley:
Instagram: https://www.instagram.com/annie_oakley_the_lab/