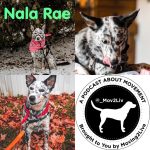 Moving2Live is a podcast about movement and exercise for professionals and aficionados.  We also have Movement is a Lifestyle Features. Each week, we publish a brief highlight of a 2- or 4-legged mover…someone who understands that movement is a lifestyle…not just an activity.  The questions are lightly edited to allow for easy readability.  Click MIAL Features for more info if you want to be featured/know someone who should be featured.
This Week: Nala Rae
Where do you consider "Home"? North East, Pennsylvania
What are your three favorite movement activities? Jumping to catch my ball, running with the hooman cousins, and protecting mine house from the stray cats!
Describe the best vacation you've ever taken? Where did you go? What movement activities did you include? The hoomans took me to some strange big house once. There were other hoomans and they threw some circle thing for me! There was another dog there too, but she was old and wasn't happy about how fast I was! The only downside to this place was it took 4 hours to get there! That's a lot of running for this metal thing we were in!
What is your favorite pre- or post-workout snack? Peanut butter on the bananas is the best!
What is your favorite thing to eat? Note: it does not need to be healthy. Peanut butter and those cold sweet potatoes! Thems are yummy in my furry tummy!
Do you have a movement activity on your "bucket list"? If not, what's a movement activity/event you're looking forward to in the next year? I'd love it if my hooman would let me run in the mountains, but she says we don't have any that's easy to get to.
What do you think is the biggest obstacle to getting people to move more? A leash really holds you back, somedays!
What do you feel is the most adventurous movement activity you've ever done? I once ran as fast as possible from a bee. I left my hooman because I was so scared. That was pretty crazy because I went to someone else's door and I thought it was mine, until my hooman found me!
What is your favorite recovery or self-care practice? I love to bite frozen peanut butter out of my bone toy while the hooman does my hip therapies! Helps me to ignore her and I get food!
What is your favorite spot within an hour of where you are currently living? (Bonus points if it is a "hidden gem") I had lots of fun working at this place my hooman's dad kept calling Pet Supplies. I get to meet all the hoomans, while babysitting mine! She falls a lot, so I gots to be there to help her up or keep others away.
Contact information for Nala Rae:
Nala Rae lives with her hooman, Hallie Buckel, who we Featured on 6/4/20. You can follow Hallie at:
Instagram: https://www.instagram.com/halbuck2018/