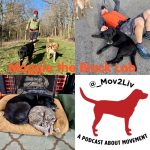 Moving2Live is a podcast about movement and exercise for professionals and aficionados.  We also have Movement is a Lifestyle Features. Each week, we publish a brief highlight of a 2- or 4-legged mover…someone who understands that movement is a lifestyle…not just an activity.  The questions are lightly edited to allow for easy readability.  Click MIAL Features for more info if you want to be featured/know someone who should be featured.
This Week: Moving2Live's Maggie the Black Lab
Where do you consider "Home"? Finleyville, PA because that's where my person is. I was born in Ohio.
What are your three favorite movement activities? Hiking/Running/Fartlek with my human staff. Wrestling with Puddin the Yellow Lab. Wriggling (snaking) on the floor.
Describe your "Best Day Ever" Breakfast. Nap. A berry and a lick of yogurt. Fartlek with the staff and Puddin in the park. Nap. A bite of carrot or bell pepper. Nap. Dinner. Nap. Sleep.
What is your favorite snack/treat? Tough call…tie between berries, carrots, and bell peppers…oh, pumpkin is great too…
What is your favorite thing to eat? Note: it does not need to be healthy. Plain nonfat Greek yogurt (the Staff lets me have a lick at breakfast time). My Fromm dog food is pretty good too; the staff alternates between 3 varieties.
Do you have a movement activity on your "bucket list"? If not, what's a movement activity/event you're looking forward to in the next year? I'm a live-in-the-moment sort of dog, so nothing on my bucket list, but I'm looking forward to many Mt. Mingo Summits this year.
What do you think is the biggest obstacle to getting people or animals to move more? It sounds like humans make things too complicated…scheduling workouts and classes…don't they realize they can just get outside and move???
What do you feel is the most adventurous movement activity you've ever done? Being responsible for leading the staff on a hike in the snow…the humans couldn't figure out where the trail was, but I convinced them to follow me, and I was right!
What is your favorite recovery or self-care practice? Is this a trick question??? Napping, of course!
What is your favorite spot within an hour of where you are currently living? (Note: it does not need to be outside of your house) Mingo Creek Park…especially when it's really cold or raining hard, because then we have the park to ourselves
Contact information for Maggie:
Maggie does not maintain her own social media accounts, but you can follow her through Moving2Live at:
Instagram: https://www.instagram.com/_mov2liv/
Facebook: https://www.facebook.com/movingtoliv
Twitter: https://twitter.com/_mov2liv