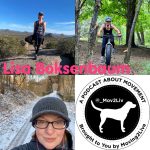 Moving2Live is a podcast about movement and exercise for professionals and aficionados.  We also have Movement is a Lifestyle Features. Each week, we publish a brief highlight of a 2- or 4-legged mover…someone who understands that movement is a lifestyle…not just an activity.  The questions are lightly edited to allow for easy readability.  Click MIAL Features for more info if you want to be featured/know someone who should be featured.
This Week: We Want Your Story – Scroll down for our Co-Founder Lisa's story for Inspiration…and we're not just looking for human stories…bring us your cat tales, dog diaries, horse lore…you are only limited by your imagination…read Lisa's profile…then submit a questionnaire for your yourself or your animal friend…
This Week: Lisa Boksenbaum
Where do you consider "Home"? I have moved a lot, searching for "Home." I'm not sure that I've found it yet. I think home is where you feel a sense of connection and belonging. I'm currently living in the South Hills of Pittsburgh.
What are your three favorite movement activities? Hiking (or just walking on the rails-to-trails); cycling (especially loving my new fat bike (a Salsa Cycles Mukluk)); suspension trainer/bodyweight workouts
Describe the best vacation you've ever taken? Where did you go? What movement activities did you include? Tough choice! I'm going to go with a two week trip to London (part-work, part-vacation). I walked EVERYWHERE for sightseeing, museum visits, shopping…and tried out several local Pilates studios and other fitness facilities.
What is your favorite pre- or post-workout snack? Pre-workout snack: homemade energy bites (adapted from a recipe by Kathryn Budig in her book, Aim True). Post-workout depends on the intensity of the workout…sometimes trail mix, sometimes a piece of homemade biscotti.
What is your favorite thing to eat? Note: it does not need to be healthy. A tie: REALLY good ice cream (like Millie's, which is made in Pittsburgh) or excellent bread, cheese, and wine
Do you have a movement activity on your "bucket list"? If not, what's a movement activity/event you're looking forward to in the next year? I have a few: Hiking tour of Scotland and Ireland; learn to ride a horse; and a Rim-to-Rim hike of the Grand Canyon.
What do you think is the biggest obstacle to getting people to move more? A combination of the misperception that movement needs to be expensive and/or complicated to be effective and a fear of trying something new
What do you feel is the most adventurous movement activity you've ever done? Hiking Camelback Mountain in AZ…followed by the Go Ape High Ropes Adventure Course in North Park (North Hills of Pittsburgh)…heights are not my favorite thing…
What is your favorite recovery or self-care practice? Massage (although I rarely do it), acupuncture, and snuggling with the cats and Labradors
What is your favorite spot within an hour of where you are currently living? (Bonus points if it is a "hidden gem") The Montour Trail…not hidden, but definitely a gem….and the newly-cut MTB trails at FitLabPGH HQ
Contact information for Lisa Boksenbaum:
Lisa is the Co-Founder of the Moving2Live Podcast. Follow her movement activities through Moving2Live on social media.
Instagram: https://www.instagram.com/_mov2liv/
Facebook: https://www.facebook.com/movingtoliv
Twitter: https://twitter.com/_mov2liv